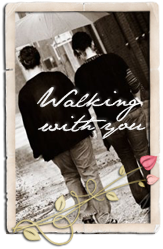 Walking With You is an outreach of
Sufficient Grace Ministries
, led by Kelly Gerken. We are a group of mothers who have lost a baby or child. We gather together from different places on our journey, each month to share our stories, to encourage, and pray for one another as we walk this path together. Our hope is that you will be comforted when you join us here...and maybe that we can offer some grace for the journey as we look to the Lord for comfort and strength.
This chapter is about Acceptance and the cross that we must bear with our grief.
II Cor 4:8-10We are troubled on every side, yet not distressed; we are perplexed, but not in despair;
Persecuted, but not forsaken; cast down, but not destroyed;
Always bearing about in the body the dying of the Lord Jesus, the the life also of Jesus might be made manifest in our body.

This verse is very close to me this past month as I have felt troubled on every side, perplexed, persecuted, and cast down. I have leaned on the Lord a lot this past month. Sometimes I feel as if I am treading water and trying to keep my head above water and there is His hand holding me up. If not for His hand, I do not know where I would be. I give all the credit for my strength in facing each day to God.
II Cor 4:18
While we look not at the things which are seen, but at the things which are not seen: for the things which are seen are temporal; but the things which are not seen are eternal.
Though I can not see Lilly everyday that is only temporary, one day I will be able to see her for the rest of eternity. I am torn sometimes as I would love to see her and can not wait until that day, at the same time I have her siblings to take care of and my husband (her father) and I do not want to leave them. I am here until the Lord calls me home. Until then I will carry this hope with me. .
How has your loss changed you both positively and negatively?
I believe losing Lilly has helped me let go of a lot of things that used to bother me; petty, trivial things. They no longer bear the same if any importance to me as they once did. I definitely look at life differently and am forever changed. How can I not be?
I really can not say that losing Lilly has had a negative affect on me. That being said, I am extra sensitive when it comes to the subject of my grieving at times, especially when I am already feeling sad about missing Lilly. I tend to take things the wrong way that are meant with great intentions and I sometimes can not see past my hurt during those moments. I am even more fearful of losing a child since I have already lost a child so letting the kids go with their grandparents for a week this summer has been really weighing on me.
I believe as far as acceptance goes, we've always accepted this was our path. I was never in denial about Lilly's diagnosis, though I did have hope that God would perform a miracle. I prayed because I knew He could not because I felt He actually would, just that through Him all things are possible, and I still believe that.
I am learning to live my life changed and while grieving the loss of Lilly, I also have accepted that this is my life now. I am OK with the sad moments and the happy moments. I am OK with missing my daughter. If this is my cross to bear, I am willing to bear it for the rest of my life. Lilly is definitely worth it.